Become a train master with the Metro Tunnel's free online game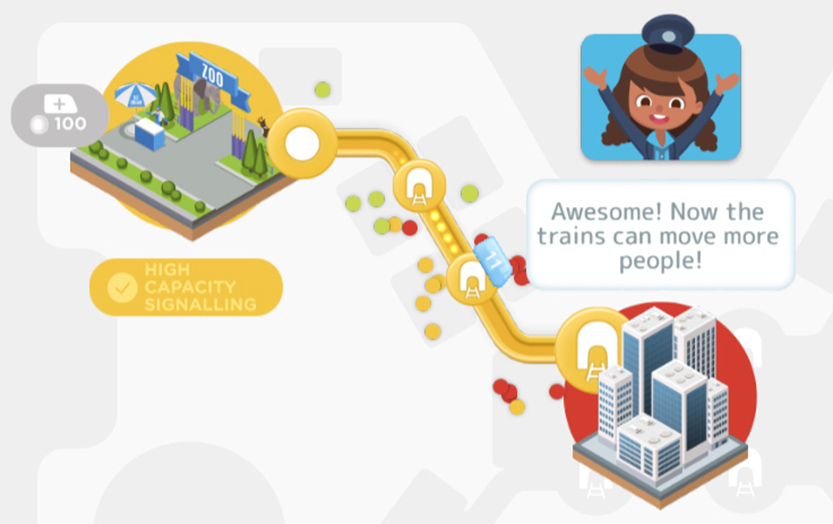 The Metro Tunnel Project has launched a free online game that gives players a sneak peek into the inner workings of the next-generation technology coming to Melbourne's train network.
Created with local game developers Two Moos, Train Master Challenge invites players young and old to try their hand at being a train signalling engineer.
Players must juggle the demands of four busy train lines and try to get as many passengers as possible to their destinations on time.
The game is an accessible way to learn about some of the more complex and technical aspects of Victoria's biggest ever public transport project.
Strategies in the game include deploying high-capacity signalling to the train lines and adding platform screen doors at the stations. Both of these are real features coming to the Metro Tunnel and other parts of Melbourne's train network in 2025.
High-capacity signalling allows trains to talk to each other so that they can run closer together, allowing more trains to run on the network and increasing the number of train services for Melburnians.
The smart technology will be rolled out not just in the Metro Tunnel but also along the Pakenham/Cranbourne and Sunbury lines. Works to install the technology are already underway across parts of the network.
The Metro Tunnel's five new underground stations will feature automated platform screen doors, which allow passengers to get on and off trains more quickly and safely.
While the Train Master Challenge game targets primary school-aged kids, it's something that will appeal to all ages. It is designed for people to pick up and play without much instruction and has both a beginner level and an advanced level for those who want more of a challenge.
Train Master Challenge is part of Signalling Wizard, a new learning module on the Metro Tunnel Education website which explores how the Metro Tunnel will use next-generation technology to deliver more trains, more often.
You can access the game and more fun educational materials for free at the Metro Tunnel Education web page metrotunnel.vic.gov.au/education. Look for the Signalling Wizard badge to get your credentials.
Metro Tunnel HQ, the Metro Tunnel's visitor and learning centre on Swanston St, will reopen this month •
For more information, visit: metrotunnel.vic.goc.au
August 3rd, 2022 - Rhonda Dredge
August 3rd, 2022 - Inner City News
Subscribe
to
all
the
news
Like us on Facebook
Download the Latest Edition